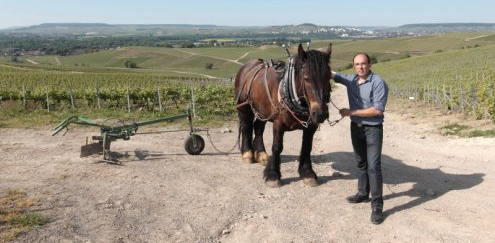 QUALITY AND AUTHENTICITY
Nestled in the heart of the prestigious Côte des Blancs for three generations, in the selected terroirs classified like Grand Crus  as Avize, Cramant, Oger and Mesnil / Oger, the Champagne De Sousa and Sons, is for sure that combines originality and authenticity, ensuring quality - great price, in other words, the best value for money.
At the head of the winery since 1986, Michelle and Erick De Sousa live ruled by the rhythm of the vineyard, an adventure where passion joins perpetually with tradition.
 
 THE QUALITY
A desire to maintain the old vines:
- Either to the prestigious vintage: selection of vines over 50 years very low yields (25-30% less than the entry for 8500 ft / Ha)
- Either for other vintages: average 70% of vines over 25 years. Also in this case yields are low, but the expression of the terroir is very strong and maturation is very good at the time of harvest.
AUTHENTICITY
Always there thank to the old vines, a CEE certified organic manures, compost use, and reasonable use of pesticides. Step into biodynamic since 1999.