HOW WE SHIP YOUR ORDER?
TRANSPORT rating
* Ability to pick in our facilities :Enológica Bohemia. C /Mar Cantábrico,31-33 Polaris Industrial Park, 30591 Balsicas (Murcia) free of any shipping.
* FLAT RATE € 4.99 (4.21 € + VAT) for Mainland Spain and Portugal ORDERS, order as much as you want and we'll charge same  with delivery in 48/72 working hours.

* In case of promotions with FREE SHIPPING, it will select in the cart PROMO PORTE PENINSULA bonus and then clicking "Apply Coupon"

* 19 Hours Service Express Tourline placing order  today before 12:00 you'll get it at home in Spain and Portugal Mainland by tomorrow before 19:00, is available with a little increase of price choosing that option in Check Out of Cart

* Ask for prices and conditions above 35 kg with 19hours shipping service.
* See conditions and customs charge on shipments to Ceuta, Melilla and the Canary Islands. 
* All orders are delivered in reinforced shockproof insulated boxes.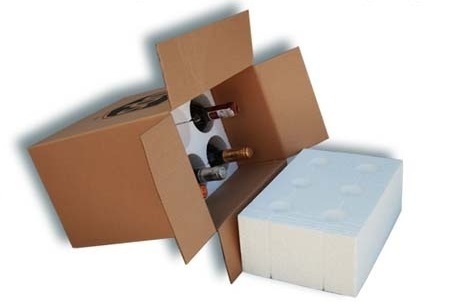 CONDITIONS SHIPPING
Products are shipped to the address specified by the customer during the order. In order to optimize the delivery, we invite the buyer to indicate a direction in which the working order can be delivered Monday to Friday from 8.30 to 19.00.
Delivery times are:
Shipments to capital of the Autonomous Communities are delivered within 48 hours, excluding Saturdays, Sundays and holidays.
The rest of the peninsula and the Balearic Islands between 48-72 hours, excluding Saturdays, Sundays and holidays.
Leaving order before 14:00 hours, a small increase using the service "19 HOURS" can be selected next day delivery before 19:00.
Check shipping terms for Ceuta, Melilla and the Canary Islands.
Also, regardless of destination, orders placed after 12:00 on Friday, have passed as output Monday.
No deliveries are made on Saturdays, Sundays and holidays.
All shipments are properly protected in specially designed boxes to ensure that the product arrives in perfect condition.
If the carrier will attempt to deliver the package and there was no one to receive it, will leave a note stating the delivery attempt. Please contact the shipping agent as soon as possible via the phone number you find in the note, in order to agree a new delivery.
If this second installment there was no one to receive it, will leave a note record again by the second delivery attempt. Thereafter, your order will remain in the office of the transit agency for 15 days.
After these days has elapsed, your order will be returned to our warehouse.
Upon delivery of your package, you must:
1. Checking the conformity of the goods received at the time of delivery.
2. Report any anomalies in the delivery order, stating its reserves and including his signature.
3. Transport providers do not allow the return of the goods if the customer opens it in your presence, but you can check out the box from the outside and if it detects that the box is damp or wet, do not accept the order. Our partner will notify us the incidence and automatically send a new shipment at no cost to you.
Enobohemia.com assumes no responsibility for the consequences of any delay in shipping
Packages are generally dispatched within 24 hours after receiving your payment.