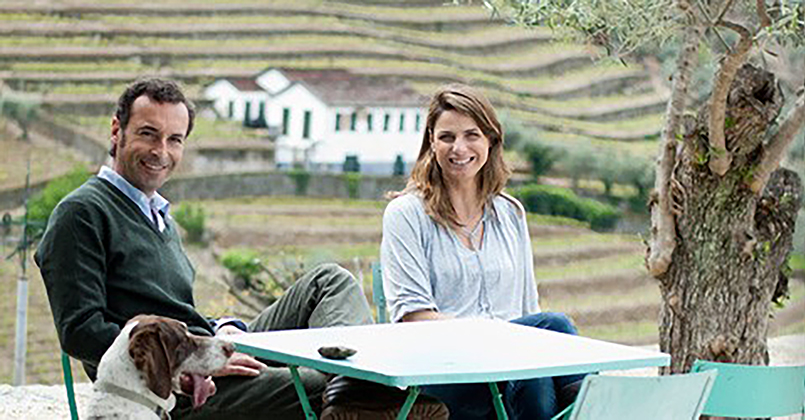 WINE and SOUL, DOURO
Sandra Tavares and Jorge Serodio
When in 2001 we, Sandra Tavares da Silva and Jorge Serôdio Borges, started our journey to make our own wine we had neither vineyards… nor wine. All we had was a dream, a vision, a project in common that would embrace our life as a couple. It&cute;s easy to understand why we named our company 'Wine&Soul' a project that we put our heart and soul into, warm and personal wines that symbolize our life.
We started making a garage wine we called 'Pintas' (spots), a single vineyard red wine that derives from a very old vineyard, a traditional Douro old vineyard mixed planting that holds over thirty varieties together. We wanted to make a full bodied wine, a wild and vertiginous wine that would parade and illustrate the flair and colossal landscape of the Douro Valley. Pintas just shows the best version of the Douro, that voluptuous fruit of the Douro, the raciness, the enthusiasm and the perfect balance of the long and lasting finish.
Later we came up with the remaining wines of our portfolio, the red Pintas Character, an easier more fruit driven version of Pintas, the white Guru, a single vineyard white we source from the high altitude vineyards, Vintage Port Pintas and our very special 5G Port Wine, a very, very old Tawny Port that comes as a blend of several very old Port wines, most of them over a hundred years old Ports.
In 2009 we inherited Quinta da Manuella, a fabulous estate planted mainly with very old vineyards, south oriented, some of them over an hundred years old. Some blocks younger, over thirty years old and did start new plantings since we received this estate in 2009. Our very first wine from our 'youngest' property, Quinta da Manoella Vinhas Velhas, quickly became one of the best and most remarkable wines in the Douro.
Wine&Soul has embodied the spirit of the new wave of high quality and strong individuality Douro wines sourced from very old individual vineyards, low yields limited production wines that showcase the character of each particular vineyard, the very special nature of each unique terroir. Wines made with a minimal winemaking intervention giving way for nature and terroir to take the lead and speak for themselves.
Over the years we have looked for old traditional vineyards, preferably the ones who traditionally have been used to make outstanding Vintage Port. We do believe in the close association and strong correlation between Port and Douro wines and we are keen to demonstrate that the best Port wine vineyards are equally the very best vineyards for the greatest Douro wines
SANDRA TAVARES DA SILVA
Sandra Tavares da Silva is a highly talented oenologist and winemaker respected by her peers and considered by many to define the New Douro generation.
A skilled interpreter of local terroir, she is bright and beautiful, with a strong work ethic, maintaining confident discipline at all times. It is hard to define how such a calm and self-effacing personality could be so successful, yet her winemaking reputation is now solidly established. Born in the Azores to a Portuguese naval officer father and Swiss mother, Sandra was taken to live in Lisbon when a year old.
After formal education followed by a degree in agronomy, she moved to Italy and studied for her Masters in oenology at a catholic university near Milan, a city not famed for viticulture but style and design. It was here the young oenologist gained a clear comprehension of old-world winemaking skills, visiting vineyards in the company of fellow students and developing an appreciation for truly fine wine. At the time Sandra moved to Douro in 1999, Cristiano van Zeller was actively looking for a skilled winemaker and asked her to join him at Vale Dona Maria. This was an auspicious year for the winemaking debutant: in addition to her exciting new post and inaugural vintage at Vale Dona Maria, she was invited by her parents to help at the family vineyard.
Quinta de Chocapalha is in the Estremadura region of southern Portugal and produces indigenous red grapes on clay soil, until 2000 the fruit was sold to other winemakers, but with Sandra's great oenological skills, the Tavares da Silvas could justify building a winery of their own. In the same year Sandra met her future husband and winemaking partner, Jorge Serodio Borges. Married in 2001, it seemed only logical the dynamic duo would embark on their own winemaking adventure, and thus evolved a new enterprise - Wine & Soul. In the past six years their joint success has been impressive with a string of high scoring wines, including the much acclaimed Pintas and stylish newcomers Character and Guru. ( by David Eley in "A GoodNose.com")
JORGE SERÔDIO BORGES
Jorge is the fifth generation of a family with more than a century connected to the business of wine in the Douro region. The family business has intensified in 1850, after the catastrophe of phylloxera that decimated the vineyards in the Douro and the lands were abandoned. At that time the great-great grandfather of Jorge decided to invest in Douro buying several properties, including Quinta da Manoella which is now part of the heritage of Wine and Soul. In 1996, after his graduation in oenology, started to work in the family business leaving in 1999 for the company of Douro and Porto wines Niepoort. Since then several other challenges have grasped, but the most important one, was the establishment of Wine & Soul, together with his wife.
When in 2001 Sandra and Jorge got married, decided to buy a winery and a vineyard rather than a house. He had then started the great adventure of this family business, which after 11 years represents one of the most successful cases of wine in Portugal. The vineyards totalize 22 hectares, which of 6 hectares have been acquired over the years and the remaining 16 belong to Quinta da Manoella, which has been inherited by the couple and that remains in the family since the nineteenth century.
The philosophy of this company is to respect family traditions, introducing new technologies in the manufacturing process of various wines, respecting the terroir and thereby create wines with its own identity where vineyards have a decisive role. That is the reason why each wine of Wine & Soul is related with a single vineyard. This way the identity is maintained year after year and is possible to increase quality, achieving knowledge of each parcel.

The manufacturing process of a wine starts before the day of harvest and following a personal rule "wine is the result of a combination of various details". All the details are crucial, from the smallest operation in the vineyard to the quality of label, if the error is decreased during all stages of the process, we will certainly achieve the high level of quality that we proposed initially.